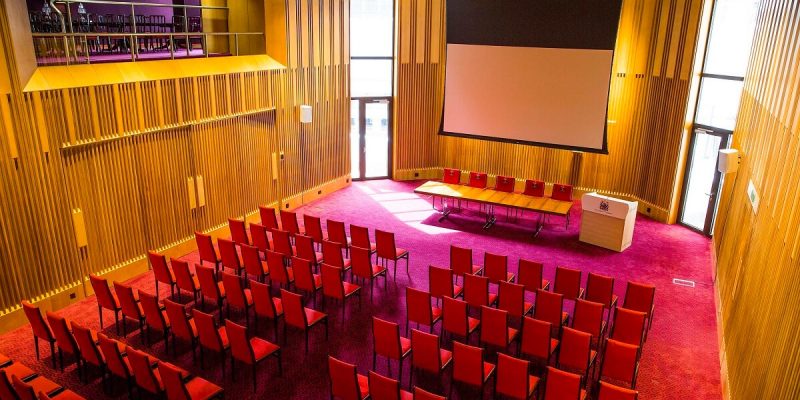 10 of the most important things to consider when looking at meeting room hire.
1. What size space do you need?
This will depend obviously on your number of guests but also the kind of set up you would like for your meeting room.  Theatre style (rows of chairs) will allow you to fit the most but cabaret (chairs part way around a round table so guests can see the screen at the front without turning around) is helpful if you believe guests will want to write notes and also to encourage break sessions and discussions between delegates.
2.  Is natural daylight important to you?
You can often get better value for your money if you are happy not to have natural daylight in your meeting room. On a dreary winters day it won't make much difference if you can see outside and on a bright summer's day it isn't going to help your delegates concentration to see sunshine and people enjoying it out of the window. However, it can be tiring and feel a little unnatural not to be able to see any daylight so perhaps a compromise would be to have a breakout space with daylight?
3. Do you need air conditioning?
What time of year are you hosting your event? We have experience some hot summers of late, so it can be important to be able to vary the temperature of the space to ensure all are comfortable. The venue will be about to advise you of what temperature is a good average to set it at.
4. Do you need break out space?
This could just be for your catering requirements through the day or for additional meetings or breakout sessions. Just be sure how many you need before you approach the venue and then they can tell you from the off whether they can accommodate your needs. You can consider using the back of your meeting room for refreshments but you might need quite a bit of space for guests to not feel a little hemmed in.
5. Where is your ideal venue location?
It might be that you want to use a venue close to where your delegates are based to make it easy for them to attend or you purposely want to take them somewhere further away so they feel that they are being treated to something different. If your guests are making their own way to the meeting, being close to public transport and ensuring they have that information in their delegate pack, can be very helpful indeed.
6. What audio visual requirements do you have?
Some venues will have some equipment in-house that will either be included in your venue hire or will be available to hire directly from the venue itself. This is going to be the easiest option and of course as the equipment is on site already the costs should be lower and there should be fewer technical errors. If you need to bring in additional equipment, do listen to the advice of the venue as they will understand how to sync the technology you need with equipment in-house. It is sometimes easier to explain to the technical support what you are trying to achieve and they can then give you the options from their suggestions.
7. Do you have any exhibition requirements?
Obviously when going to hire a venue you need to know the full specification of the event so that the size of the venue can be considered. If you do want exhibition space, would this be in the same space where guests have refreshments, using these breaks and lunchtime to talk to exhibitors? Alternatively, if you want a separate space, it needs to be clear when guests will be going into the space and what will draw them in there. If you have paying or sponsoring partners taking stands they will want to see footfall around this area to help with their return on investment.
8. What food and drinks are you serving your guests?
Any attendee at a meeting feels it is a treat to get food and drinks provided for them throughout the day and the breaks are usually important times for guests to network and make even more opportunity of the event itself. There are always firm favourites in terms of having tea and coffee available, but why not add in some healthy smoothies, some energy shot drinks or, for later in the day, some mocktails? Lunch can often be a tricky one to decide on what to serve, your guests probably often have a sandwich for lunch so is there something a little more exciting that will add to the meeting experience? We have seen an increase in the number of more interactive lunches, like food stations and street food being served. This gives your guests great choice, variety and something visually engaging to enjoy.
9. Have you thought about value for money?
It is important that you get value for money so depending on what your value base is, you can see if a proposition from a venue and suppliers is value for money. Be aware though of what you are getting for your money, venues vary hugely in style, exclusivity and character, so when comparing venues and pricing, do bare these in mind. A hotel may well be the most cost effective option, but there is a level of uniqueness, privacy and engagement from attendees for going for something a little different.
10. Have something to engage your delegates.
This could be anything from the venue itself which your guests have never been to, a private tour or opportunity to talk to a curator at the venue, an activity during the day which guests can look forward to or a different food and drink service to perk people up. There are lots of different ideas,  simple and complicated that can be added to help with your clients engagement. Talk to the venue teams and they will be able to tell you what can be done and perhaps what has worked well in the past.
Our meeting venue in London
Salters' Hall has such a flexibility of options available for anyone looking to host a meeting and offers a history dating back to the Roman Wall which surrounds its' gardens, all the way to the modern architecture and design of the building itself.
Posted on: 02/06/2020
Category: General